Welcome to Multifix Garage.
Our passion is to deliver high-quality workmanship to you every visit. We are fully qualified and experienced to work on all vehicle makes and models. We would be delighted to provide you with fantastic customer service and vehicle repair.
We are open Monday to Saturday
We have a spacious and bright garage and we also have the knowledge and equiptment to carry out all repairs.
Collect & Drop off service
If you are really busy and your car needs repaired, allow us to pick it up and drop it off at your home or workplace. There is no need to worry about coming to us.
Card Payments
No cash in your pocket? Don't worry! We accept card payments.
High Quality Service
We take full responsibility for all of our work.
Free Quote
To get a free quote, send us a message via the form at the bottom of this webpage. We will let you know how much the job will cost and how long it will take to complete.
Recovery truck service
If your car is not in great shape, we can collect it using a recovery truck.
Here is some examples of our work.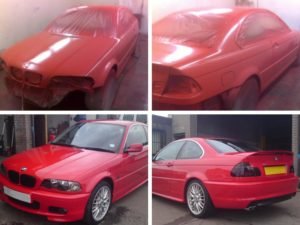 Here you can see how this BMW Series 3 has been improved by a full repaint and polish. It is now looking fresh and shiny!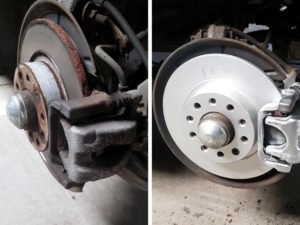 You can see that these brake discs have been replaced and the calipers have been cleaned. It doesn't take long to achieve this result!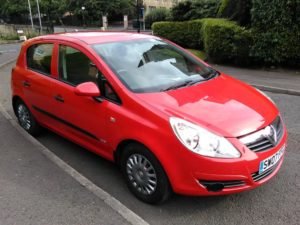 Red Vauxhall Corsa: Almost every panel on this vehicle was scratched, however after the repaint and polish it is looking as good as new!
Bodywork
If you have been involved in an accident or had a small bump in your car we can help fix it. From the smallest of scratches to full panel repairs…
Minor, Major & Interim Service
Service – This is a vehicle inspection that keeps your car safe and in a fully-functioning condition.
Brake Servicing
Brake checks are included within the Minor and Major services. However, we also recommend that you have your brakes serviced prior to…
Manual Transmission & Engine
Clutch kit and flywheel, gearbox, timing belt or timing chain – repair and/or replacement. It is good to remember to change your timing belt or…
Suspension & Steering
Your vehicle's suspension is a complx series of components. It works to reduce the vibrations and undulations from the road's surface…
Exhaust System
Is your car giving off unusual noises? You are able to hear most problems with the exhaust. If you hear any strange noises such as rattling, hissing or loud metallic vibrations coming from your…
Get A Free Consultation & Estimate
We will answer your query as soon as possible!
Frequently Asked Questions
My bumper is damaged (or other panel), how long it would take to repair it ?
We are able to fix one-two panels within ONE WORKING DAY!
Can I pay by credit or debit card ?
Yes, You can.
Can I bring my car to you, to have my tyre pressure checked ?
Yes, You can
Have a different Question?

Ronald, Other - Bodywork, Dents and Smart Repairs, Mazda 3
Picked up the car repaired damage ie dent in the door and repainting of the door panel. Car was returned the next day as promised. The repair was 5 star. I would recommend this garage.

Shona, Other - Bodywork, Dents and Smart Repairs, Skoda Fabia
Quick service. Work done to my satisfaction Will use this garage again.

Debbie, Mobile Mechanic, Vauxhall Corsa
Fantastic service can't recommend highly enough, went above and beyond to get my car fixed, would definitely use again and recommend to family and friends.

Ewen, Engine Oil, Honda Accord
Found Damian at Multifix very helpful and polite. Job carried out no problem. Will go back.

Ben, Other - Bodywork, Dents and Smart Repairs, Land Rover Range Rover Evoque
Damian was fantastic. Collected the car free of charge from Edinburgh and repaired a dent across the rear right wheel arch and back panel. Had the car back the next day. Even showed me photos of the process he went through on my car. Would highly recommend for any bodywork!

Anthony, General Repairs, Vauxhall Astra
Fantastic service from start to finish, collection service is great and work carried out very quick, would highly recommend.
Satisfaction Guarantee
Reliable, quick and with a good price.
A One-Stop Shop
Come to us for all service repairs.
Speedy Service
Get the job done in reasonable time.
We are Available from monday to saturday